Twitter CEO Jack Dorsey decided to ban alt-right personality Baked Alaska on Wednesday and removed "verification" check marks from Richard Spencer, James Allsup, Jason Kessler, "Wife With A Purpose," Tommy Robinson, Laura Loomer and other right-wing personalities, ostensibly for "promoting hate."
Dorsey's "Twitter Support" account tweeted last week: "Verification was meant to authenticate identity & voice but it is interpreted as an endorsement or an indicator of importance. We recognize that we have created this confusion and need to resolve it. We have paused all general verifications while we work and will report back soon."
Verification was meant to authenticate identity & voice but it is interpreted as an endorsement or an indicator of importance. We recognize that we have created this confusion and need to resolve it. We have paused all general verifications while we work and will report back soon

— Twitter Support (@TwitterSupport) November 9, 2017
Dorsey confirmed from his personal account they're working to "fix" the problem (which they made up).
We should've communicated faster on this (yesterday): our agents have been following our verification policy correctly, but we realized some time ago the system is broken and needs to be reconsidered. And we failed by not doing anything about it. Working now to fix faster. https://t.co/wVbfYJntHj

— jack (@jack) November 9, 2017

Twitter said they're going to pull verification check marks from anyone they deem to be "promoting hate," whether on or off their platform.
Twitter now says verified users can have status revoked based on the content of their tweets, including "promoting hate" pic.twitter.com/XbhZp9dhnD

— Jon Passantino (@passantino) November 15, 2017
https://twitter.com/RichardBSpencer/status/930939544941285378
https://twitter.com/TRobinsonNewEra/status/930932431431008256
Twitter just emailed me to tell me they are removing my "verified badge" because they claim my account "doesn't comply with Twitter's guidelines for verified accounts."

Translation: I'm a conservative. pic.twitter.com/F1AsxWI6Fm

— Laura Loomer (@LauraLoomer) November 15, 2017

https://twitter.com/apurposefulwife/status/930978446553092096
https://twitter.com/realJamesAllsup/status/930941979092856832
Twitter has changed their verification policy just to be able to censor me. Several other accounts were unverified including Richard Spencer and James Allsup while Baked Alaska was permanently suspended altogether. pic.twitter.com/PO1QnJC2C6

— Jason Kessler (@TheMadDimension) November 15, 2017
For some reason, all these leftists promoting hatred against white people have not been deverified:
Fuck it. Kill all white people. Kill em all. If it means no more Paul Ryan I'm willing to go. I'm ready. ITS WORTH IT.

— Katharine Towne (@KatharineTowne) October 12, 2012
"White people don't steal wallets." They steal countries. #FaceValueBET

— Official Wanda Sykes (@iamwandasykes) November 16, 2017
A year ago today, a racist apricot-hued asshole scammed his way to the White House thanks to a self-righteous FBI director, a superficial media, a foreign nation adept at catfishing on a budget, and mostly, fragile white people in need of an ego boost. Fuck all of them forever.

— Michael Arceneaux (@youngsinick) November 8, 2017
Hey @twitter @jack – why are these racists verified? pic.twitter.com/K0EyZ14a2L

— Alex Nieora (@Alexicon83) November 16, 2017
I'll admit it. I hate white people.

— Jonathan Zaslow (@ZaslowShow) June 1, 2016
as much as I hate white people I don't think "Guap" was white

— Moshe Kasher (@moshekasher) June 23, 2016
this film, and The Big Chill, are the reason I hate white people.

— Kelly Dwyer (@KDonhoops) July 2, 2016
I hate white people

— OpTic Lethul (@LxthuL) July 4, 2016
yes I am racist! I hate white people!

— Andy Cohen (@Andy) December 14, 2016
this why I hate white people

— Brennen Taylor (@BrennenTaylor) March 6, 2017
I tried but I hate white people too much. #whitegenocide

— Daniel Hoffmann-Gill (@danielh_g) June 20, 2017
fuck white women.

— Jillian (@jilliancyork) March 13, 2017
I hate this article and I hate white people pic.twitter.com/mwQf0DHgQ1

— Elizabeth Sampat (@twoscooters) May 10, 2017

https://twitter.com/IAmTehran/status/918472992715259904
Need further proof that so-called "white" people suck by a disproportionate percentage? https://t.co/bZGbm7Kymd

— Max Borenstein (@MAXBORENSTEIN) October 18, 2017
In fairness, after reading this headline, I hate white people https://t.co/94i27PC5xF

— Jess Dweck (@TheDweck) October 24, 2017
The underlying ecosystem of dingbat white people identity politics makes the whole machine possible.

— Matthew Yglesias (@mattyglesias) July 15, 2017
Fuck white people and their fucking guns and their bullshit gun culture and all of it. Goddammit.

— Megan Romer (@meganromer) July 24, 2015
Keith Olbermann, who does nothing but "promote hate," is also still verified.
Twitter suspends influential conservative Trump supporter @bakedalaska for no apparent reason yet @KeithOlbermann still has an account and is in clear violation of Twitter TOS. pic.twitter.com/PK7NE32G1s

— Mike Tokes (@MikeTokes) November 15, 2017
CUNY Professor Jessie Daniels, who said anyone "reproducing white children" is "part of the problem" of "white supremacy" is still verified.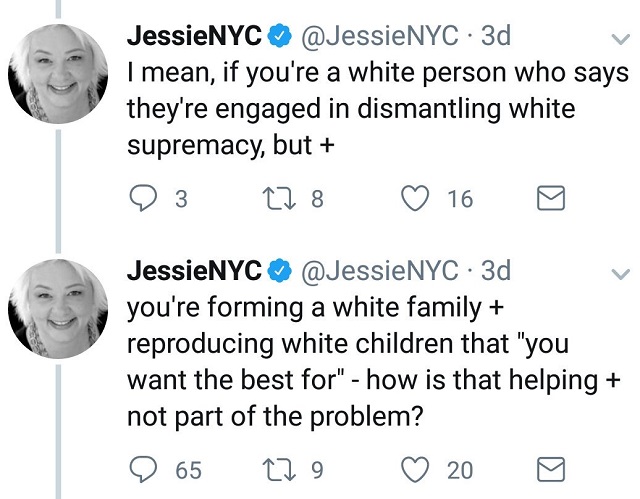 Drexel professor George Ciccariello-Maher, who said he wants "white genocide for Christmas" and said the genocide of white people during the Haitian revolution "was a good thing indeed" is also still verified.
Jack Dorsey's hypocritical censorship standards were exposed last year:
A Twitter user conducted an interesting experiment to sniff out double standards in the site's censorship policy concerning race.

The person wrote the same comment on two different accounts with only two words changed, then reported each for abusive behavior.

The first comment read: "I fucking hate white people and their inconsiderate asses for voting for Trump. Fuck you."

The second: "I fucking hate black people and their inconsiderate asses for voting for Clinton. Fuck you."

The first was found not to be in "violation of Twitter's Rules regarding abusive behavior," while the second resulted in the user's account being banned.
The Emergency Election Sale is now live! Get 30% to 60% off our most popular products today!