The Economist
January 1, 2013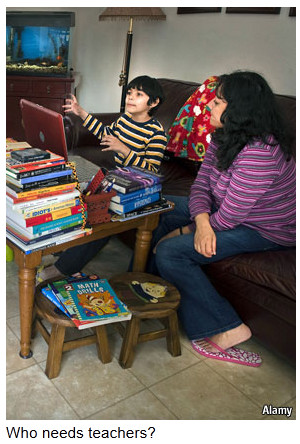 Screen capture taken from Economist.com.
[…] Three decades ago home schooling was illegal in 30 states. It was considered a fringe phenomenon, pursued by cranks, and parents who tried it were often persecuted and sometimes jailed. Today it is legal everywhere, and is probably the fastest-growing form of education in America. According to a new book, "Home Schooling in America", by Joseph Murphy, a professor at Vanderbilt University, in 1975 10,000-15,000 children were taught at home. Today around 2m are—about the same number as attend charter schools.
Although home schooling started on the counter-cultural left, the conservative right has done most to promote it, abandoning public schools for being too secular and providing no moral framework. Today the ranks of home-schoolers are overwhelmingly Christian, and 78% of parents attend church frequently. According to the National Household Education Survey in 2007, the main motivation for home schooling was for religious or moral instruction (36%), followed by school environment (21%) and the quality of instruction available (17%). After this comes concerns about special education, the distance of travel and even nut allergies.
Home schooling is not exclusively white and Christian. In 2007 a report found that Muslim children were one of the fastest-growing groups; black-home schoolers are around 4% of the total and comprised 61,000 children. The super-wealthy, and parents who must move around a lot, are also taking up home schooling in increasing numbers because of its flexibility.
The Emergency Election Sale is now live! Get 30% to 60% off our most popular products today!