Actor gave jaw-dropping speech at GQ ceremony
Infowars.com
Sept. 6, 2013
This week British media launched a coordinated attack on boisterous comedian Russell Brand after he gave a jaw-dropping speech calling out fashion label Hugo Boss at the recent GQ Men of the Year ceremony.
"Glad to grace the stage where Boris Johnson has just made light of the use of chemical weapons in Syria. Meaning that GQ can now stand for 'Genocide Quips,'" Brand quipped.
The Forgetting Sarah Marshall actor, who joined Alex Jones last week for an interview discussing current events and his latest tour, took to the microphone Tuesday night and in a jocular tirade proceeded to roast the sponsor of the event.
"I mention that only to make the next comment a bit lighter because if any of you know a little bit about history and fashion, you'll know Hugo Boss made the uniforms for the Nazis. But they did look f****** fantastic, lets face it, while they were killing people on the basis of their religion and sexuality."
Reportedly, Hugo Boss had funded GQ's party to the tune of £250,000 (US $390,800).
"Shortly afterwards, Brand was kicked out by the magazine's editor, Dylan Jones," reported the Daily Mail. GQ responded to Brand saying, "What you did was very offensive to Hugo Boss."
The stand-up comedian, who appeared last June on MSNBC's Morning Joe and lectured the anchors on media distraction, is now being attacked for, in the past, wearing the very designer he berated.
As he pointed out in his response, however, his crime is much less egregious than his accused:
GQ editor: "What you did was very offensive to Hugo Boss." Me:" What Hugo Boss did was very offensive to the Jews." #GQAwards #nazitailor

— Russell Brand (@rustyrockets) September 4, 2013
The Daily Mail's Guy Walters elucidated on why Brand was correct in his criticism:
After serving in World War I, Boss established his own clothes factory in 1924, which produced traditional outfits.

It was certainly not designing couture, and its clothes, such as raincoats and sportswear, were functional.

Among one of Boss's earliest clients was a textiles distributor called Rudolf Born, which commissioned Hugo Boss to produce some brown shirts for an organisation called the 'National Socialist Party', later, to become better known as the Nazis.

By the late Twenties, the growing Nazi Party had become a good client. And when the Party supplied Hugo Boss (as it did other manufacturers) the production templates for its uniforms, it appears that Boss did not see the relationship in anything but commercial terms.

After all, Boss produced uniforms for many organisations, including the police and the postal service, and the apparently apolitical Boss was happy to make clothes for whoever paid their bills.

However, on April 1, 1931, Boss took a step that would see his name — and brand — forever associated with Nazism. He joined the Nazi Party and was given the relatively low membership number of 508,889.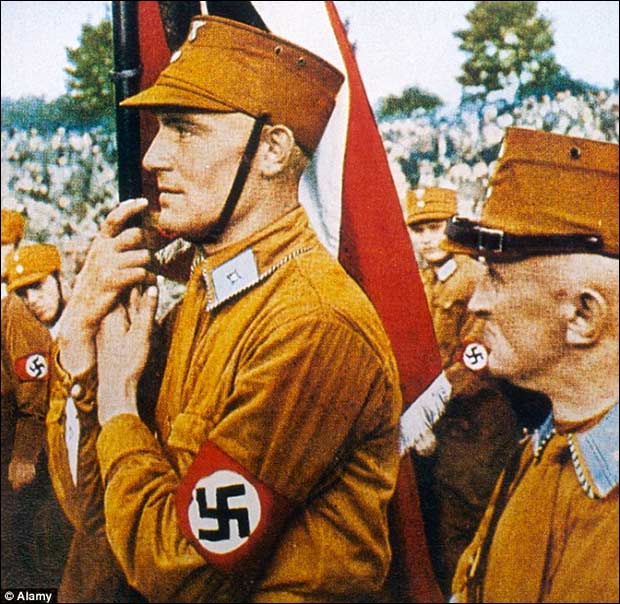 The Emergency Election Sale is now live! Get 30% to 60% off our most popular products today!