Patrick Howley
Daily Caller
January 9, 2013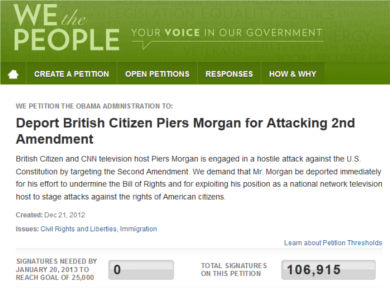 White House press secretary Jay Carney issued a factually incorrect response Wednesday to the White House petition to deport British-born CNN host Piers Morgan, wrongly claiming that Morgan, who has launched repeated televised attacks on the Second Amendment, is protected from deportation by the First Amendment.
"Let's not let arguments over the Constitution's Second Amendment violate the spirit of its First," Carney wrote in response to the petition, which has collected more than 100,000 signatures from patriotic Americans.
"President Obama believes that the Second Amendment guarantees an individual right to bear arms. However, the Constitution not only guarantees an individual right to bear arms, but also enshrines the freedom of speech and the freedom of the press — fundamental principles that are essential to our democracy," Carney wrote.
However, as the Daily Caller reported in December, the First Amendment does not protect Morgan from possible deportation in this case.
The Emergency Election Sale is now live! Get 30% to 60% off our most popular products today!