Andrew P. Napolitano
tenthamendmentcenter.com
November 28, 2013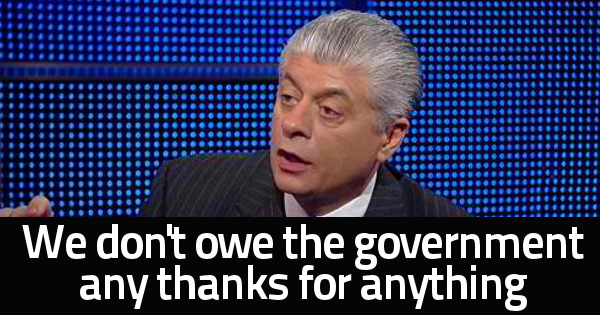 What if another Thanksgiving Day is upon us and because of the government we have less to be thankful for than we did at the last one? What if at every Thanksgiving liberty is weakened and the government is strengthened? What if Thanksgiving's warm and breezy seduction of gratitude is just the government's way of inducing us to think we should be grateful for it?
What if we don't owe the government any thanks for anything? What if the government owes us back all the freedom and property it has stolen from us? What if the government has produced nothing and owns nothing, save what it has coerced us to give it? What if the courts have ruled that the government can lie and cheat with impunity in order to acquire our property or assault our freedoms?
What if the government lies and cheats regularly to enhance its own wealth and power? What if the government claims that its power comes from the consent of the governed? What if no one consented to the government's spying and lying except those who personally and directly benefit from it?
What if the government is afraid to tell us all it is doing to us for fear we might vote it out of office? What if that vote would change nothing? What if the spying and lying continued no matter who ran the government? What if those who spy and lie don't lose their jobs no matter how they lie or upon whom they spy or who gets elected?
The Emergency Election Sale is now live! Get 30% to 60% off our most popular products today!