Carol E. Lee and Jay Solomon
Wall Street Journal
March 6, 2014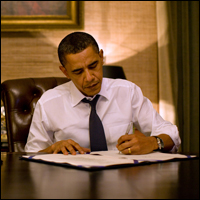 President Barack Obama on Thursday said a planned referendum on the future of Crimea is illegal and said the U.S. and European Union are united against Russia's "intervention" in Ukraine.
"Any discussion about the future of Ukraine must include the legitimate government," Mr. Obama said in a brief statement from the White House. "In 2014 we are well beyond the days when borders can be drawn over the heads of democratic leaders."
Mr. Obama's comments come as the Moscow-backed Crimea set a referendum in 10 days to ratify its decision to secede from Ukraine and join Russia. It also comes as the Obama administration set the groundwork to impose sanctions and restrict visas for those who have worked to destabilize Ukraine.
The Emergency Election Sale is now live! Get 30% to 60% off our most popular products today!