Press TV
March 1, 2014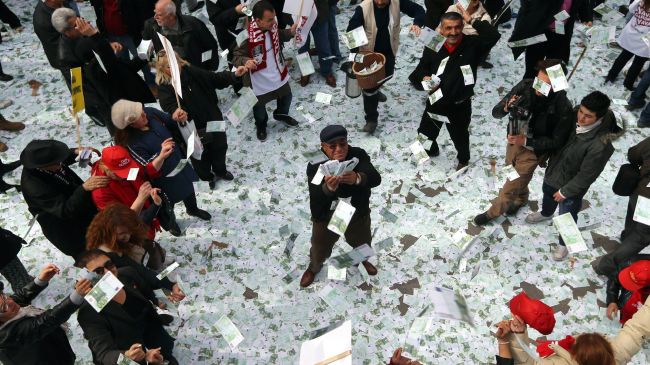 People have taken to the streets in the Turkish capital, Ankara, to protest against the corruption scandal that embroiled the government of Prime Minister Recep Tayyip Erdogan.
Some 600 people hold a demonstration in Ankara's Kizilay square on Saturday, chanting "They are thieves" and "Government, resign!"
Some protesters handed out fake euros in a mocking protest over recent leaked recordings that put the Turkish premier at the heart of the graft probe.
The leaked phone conversations, posted on YouTube last month, allegedly revealed Erdogan asking his son Bilal to turn millions of euros in cash stashed at several houses into "zero".
Bilal at one point can be heard saying, "There is 30 million euros ($41 million) more."
The phone conversations, whose authenticity could not be verified, were said to date back to December 17, 2013, when massive graft raids were conducted by Turkish police.
Erdogan has called the recordings "fabricated," saying they were just a "vile montage" done by his rivals.
Earlier this week, Turkish pro-government newspapers reported that associates of US-based Muslim cleric Fethullah Gulen in the police and the judiciary had eavesdropped on the phone calls of Erdogan, politicians and businessmen for three year.
Erdogan has accused rivals in the Gulen group of acting as a "state within a state" trying to topple his government by prompting the high-level corruption probe against his close allies.
The Emergency Election Sale is now live! Get 30% to 60% off our most popular products today!