Alex Newman
The New American
November 28, 2012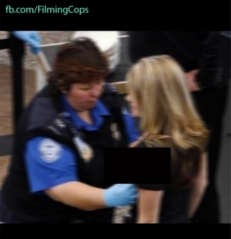 The Transportation Security Administration is under heavy fire after publicly exposing the breasts of a teenage girl during its controversial "screening" procedures. Of course, passengers routinely complain of TSA abuse and molestation — some 17,000 formal complaints have been lodged against the widely ridiculed and despised unconstitutional Homeland Security agency just since 2009, documents show.
The latest scandal, however, has turned into an international firestorm for the embattled bureaucracy, largely because the then-17-year-old victim was the grandniece of Rep. Ralph Hall (R-Texas). More than a few analysts noted that countless regular Americans suffer similar abuse and humiliation every single day; virtually nothing is ever done.
Now, though, lawmakers on both sides of the aisle are crying foul while demanding investigations. Rights activists from across the political spectrum, meanwhile, have jumped on the opportunity to rein in the federal abuses once and for all.
The Emergency Election Sale is now live! Get 30% to 60% off our most popular products today!