Ben Geman
National Journal
January 15, 2014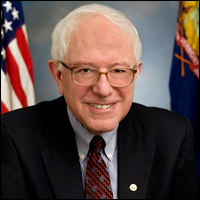 Senate Democrats pledging to get more aggressive on climate change will soon pressure the major TV networks to give the topic far greater attention on the Sunday talking-head shows.
Sens. Bernie Sanders, I-Vt., and Brian Schatz, D-Hawaii, are gathering colleagues' signatures on a letter to the networks asserting that they're ignoring global warming.
"It is beyond my comprehension that you have ABC, CBS, NBC, and Fox, that their Sunday shows have discussed climate change in 2012, collectively, for all of eight minutes," Sanders said, citing analysis by the liberal watchdog group Media Matters for America.
The Emergency Election Sale is now live! Get 30% to 60% off our most popular products today!