New government data from the Center for Immigration Studies shows 1.6 million legal and illegal immigrants settled in the United States during 2014, up 40 percent since President Barack Obama was inaugurated in 2009.
Breitbart reports that the data also showed 914,000 immigrants in the first six months of 2015, putting the United States on track to accept almost 2 million immigrants in just one year.
Meanwhile almost 4 million Americans were born, and almost 4 million graduates turned 18 and began looking for jobs. That's roughly one new immigrant, legal and illegal, for every two Americans who began looking for a job in 2015.
Almost 9 percent of all babies born in the United States during 2013 — about 300,000 — were birthed by illegal immigrants. If those births are discounted, notes the report, the likely 2015 inflow of migrants was very close to one immigrant for every two births to American parents, compared to two new immigrants for every five births or every five new graduates in 2014.
That huge inflow of migrants in 2014 and 2015 effectively increased the annual supply of new workers by almost 50 percent. The 2014 immigration pace was the highest level since almost 1.7 million immigrants arrived in 2000, although most of those who arrived in 2000 were illegally searching for jobs in the dot.com boom, writes Breitbart.
Breitbart has more:
That 2000 record is likely to have been broken during the second half of 2015, partly because of Obama's decision to allow Central American migrants to cross the border and ask judges for asylum, work-permits and Green Cards. From October 2012 to October 2016, Obama has used his power over agencies to allow 300,000 Central American migrants to seek asylum, at a cost of perhaps $200 billion over the next 75 years. Roughly 117,000 of those Central American migrants were admitted in 2016.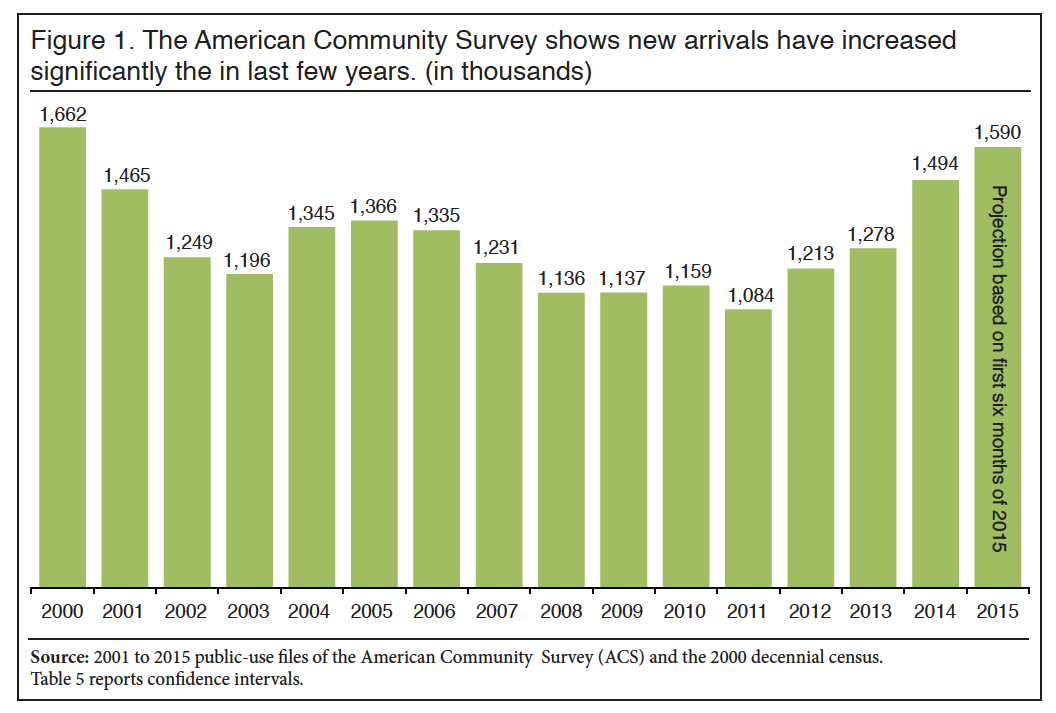 In 2014, roughly 1.1 million of the 1.5 million migrants were legally admitted, while roughly 400,000 were illegals, according to the CIS. Many of the illegals sneaked across the border, but others flew into the country and overstayed their visas.

During his tenure, Obama has sharply reduced border enforcement, reduced repatriations and has done little to deport foreign criminals.

In 2013, Obama also worked with business groups and the established media for passage of an immigration bill that would have provided citizenship for 33 million migrants over 10 years, increased the inflow of refugees and allowed an unlimited number of foreign graduate students to get Green Cards each year. The so-called "Comprehensive Immigration Reform" bill was blocked by public opposition.

However, Hillary Clinton has promised to implement many of those measures if she's elected — including the award of Green Cards to foreign professionals who enroll in U.S. graduate schools alongside young debt-burdened American graduates.

Since 1965, the massive inflow of foreign migrants has pushed the total number of foreign-born people in the United States up to 43 million in 2015, alongside roughly 270 million Americans. That's roughly one foreign-born person for every seven Americans. If the 11 million illegals are discounted, then 270 million Americans are living alongside 33 million legal immigrants. That's almost one legal immigrant for every nine Americans, including the American-born children of the immigrants.

But the inflow has rapidly increased the numbers of immigrants and native-born Americans who speak a foreign language is their homes. "Newly released Census Bureau data shows that a record 64.7 million U.S. residentsfive years of age and older spoke a language other than English at home in 2015 … up 5.2 million since 2010 and increased by 1.5 million in just the last year," according to the Center for Immigration Studies.
Read the full report here.
The Emergency Election Sale is now live! Get 30% to 60% off our most popular products today!