Matt Ryan
Infowars.com
August 24, 2010
A d v e r t i s e m e n t
{openx:49}
Steve Watson's incredible article about the use of pre-crime technology was picked up by large news sites such as the Drudge Report and others. In the article, Steve covers the recent developments that law enforcement agencies in Washington D.C. have begun to use technology that they say can predict when crimes will be committed and who will commit them, before they actually happen. While this technology may sound appealing to some, the reality of the project is anything but.
Alex Jones has asked listeners to google the phrase "pre-crime" which takes you to the story. So many of you responded that the search term appeared on Google Trends as the hottest topic. This is the 18th time we have reached the top three with a search term given out by Alex.
Fresh food that lasts from eFoods Direct (Ad)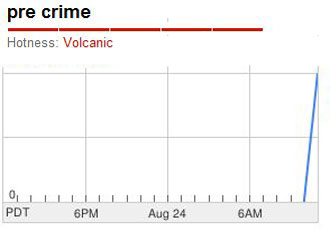 We're 18 for 18 and Alex Jones wants to thank all of you for listening and taking action to spread the information so vital to overcoming oppression. Please send this link out to Steve Watson's important story. Through education, we can stop unconstitutional policies like these from being implemented further.
The Emergency Election Sale is now live! Get 30% to 60% off our most popular products today!