Infowars.com
October 31, 2012
Starting next Thursday, Oklahomans could regularly begin seeing firearms out in plain sight wherever they go.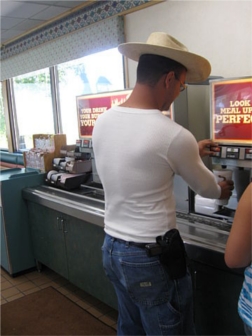 Photo by DrunkDriver, via Wikimedia Commons
A new law slated to take effect Nov. 1 will allow the open carry of a loaded firearm, whether in a holster or hidden from view, as long as its owner has a concealed weapons permit.
What began as a Facebook page for people of Oklahoma interested in open carry laws to convene quickly snowballed into a lobby group that was able to spur momentum behind a bill geared to allow open carry.
On May 10, the bill cleared the Oklahoma Senate and five days later was signed into law by Governor Mary Fallin. Following the signing of the bill into law, the founders of the Facebook page formed the Oklahoma Open Carry Association (OKOCA)
Oklahoma Senator Anthony Sykes, the author of Senate Bill 1733, lauded the new law to the New York Times saying it reinforced the notion that gun owners are responsible people: "This enhances Oklahomans' ability to exercise their Second Amendment rights…I think the evidence is clear that gun owners are some of the most responsible people, and they've shown that in not just Oklahoma, where we've had conceal carry for quite some time and there's never been an incident, but in these other states as well."
Come next Thursday, Oklahoma will become the 15th state in the nation to allow open carry with a permit requirement. There are 44 states that already allow open-carry in various forms.
The Emergency Election Sale is now live! Get 30% to 60% off our most popular products today!