Andrew Johnson
National Review
January 3, 2014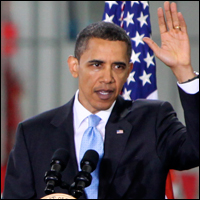 Mark Obama Ndesandjo said he was surprised to hear his half-brother President Barack Obama say they had only recently met for the first time.
"I was floored by it — I don't know why he said it," Ndesandjo said to Laura Ingraham, adding that he had met the president several times over the years and still isn't sure what his motivation was for making the claim. "I think he was being president and was not being my brother," Ndesandjo said.
From their first meeting, which took place in the 1980s in Kenya, where he lived as an American ex-pat, Ndesandjo​ said both he and the president had different views: Ndesandjo was trying to distance himself from his father and his father's name, while Obama was looking to further embrace his father's roots.
The Emergency Election Sale is now live! Get 30% to 60% off our most popular products today!