Kurt Nimmo
Infowars.com
April 27, 2011
The White House has released a long-form birth certificate, saying the document is "proof positive" that Obama was born in Hawaii.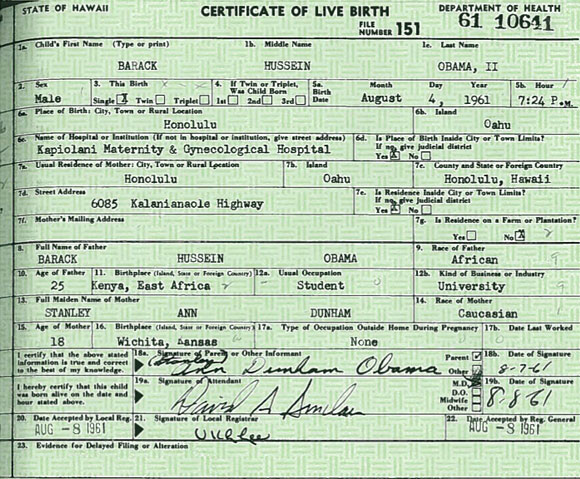 White House Communications Director Dan Pfeiffer said today the decision was made to release the full document in response to increased attention on the issue, including a political stunt by Donald Trump, who claims he may challenge Obama in 2012 for the presidency. Pfeiffer did not mention Trump by name.
Numerous researchers have questioned the place of Obama's birth, including author Jerome Corsi and attorney Phil Berg. Pfeiffer said "internet chatter" had moved into the national political debate and ended up being discussed regularly on the corporate media. Prior to Trump's challenge that he would produce his birth certificate, the corporate media assiduously ignored the issue.
Obama discussed the release of the document Wednesday morning at the White House. "We're not going to be able to solve our problems if we get distracted by sideshows and carnival barkers," he said.
The document lists Obama's birthplace as Honolulu, Hawaii, and his birth date as Aug. 4, 1961. The hospital listed is Kapiolani Maternity & Gynecological Hospital. The name on the birth certificate is Barack Hussein Obama II.
Article Two of the United States Constitution states that "No Person except a natural born Citizen, or a Citizen of the United States, at the time of the Adoption of this Constitution, shall be eligible to the Office of President."
The Emergency Election Sale is now live! Get 30% to 60% off our most popular products today!