Infowars.com
February 21, 2013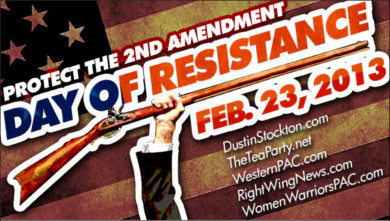 In the spirit of protest and in efforts to retain the Second Amendment as it stands, a nationwide "Day of Resistance" has been organized for Saturday, February 23 in virtually all states, with some states holding multiple rallies in multiple towns and cities.
According to the event's head organizer, Dustin Stockton, the rallies were never meant to be a nationwide effort, but they quickly turned into one once citizens in other states adamant about protecting their gun rights caught wind.
"I put out this video that I was going to do five rallies, and then all of a sudden I started getting emails from people all over the country," Stockton said in an interview with Breitbart. "Some asked me to come to Mississippi, to Minneapolis, to Louisiana and so many other places. I was like 'Holy crap.' This is way bigger than I anticipated."
The goal of the rally is made clear on the "Day of Resistance" homepage:
On January 16, 2013, President Barack Obama issued 23 executive actions against your 2nd amendment Constitutional right to bear arms. He did this without the consent of Congress which in itself, violates the foundation of the Constitution and the co-equal branches of government.

In response to these unconstitutional actions by the President, on .223, February 23, 2013 the American people will stand together in defiance to protect the right that protects ALL of our rights, the 2nd Amendment! They will organize locally so that they may band together neighbor to neighbor and reassert their community's right to determine their own destiny!
The date holds special significance, not only because it alludes to the caliber of ammo everyone's favorite "assault weapon," the AR-15 uses (.223), but because it is "also the day we raised the flag in Iwo Jima," according to Stockton, and because it falls on a Saturday, it is accommodating for "people who work regular hours."
Stockton says the rallies will be open to anyone that feels the federal government is overstepping its bounds in demanding new gun laws, however, that should not be the only topic covered at the events.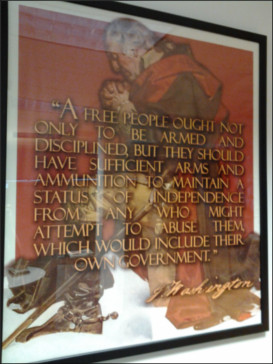 "We think that gives us an opportunity to talk about how Obamacare is affecting people's personal privacy and all the other issues the Tea Party movement has to talk about," Stockton said. "We'll talk about over-regulation, bailouts, crony capitalism, Benghazi, Fast and Furious."
So far, citizens in more than 35 states have signed up to either host, attend or contribute to the events that day, which puts the event on track to rival the Guns Across America gun rights rallies that took place last month. Stockton says over 50,000 Americans have RSVPd to attend the over 120 rallies on Saturday.
California, a state whose Attorney General says has "19,700 gun owners who are no longer qualified to possess firearms" and is actively pursuing confiscation of said weapons, seems to be the state with the most rallies planned for Saturday, standing at a total of 16, which should send a strong message to its Attorney General and one of California's fiercest gun control hypocrites, the notorious Senator Dianne Feinstein.
Texas is next with 9 rallies planned so far and Florida follows with a total of 7 rallies planned statewide.
States that at this point seem to have no rallies planned are as follows:
Connecticut, Hawaii, Iowa, Louisiana, Maine, Montana, Nevada, New Mexico, North Dakota, Rhode Island, Vermont and Virginia.
The Obama Administration, in its rush to exploit the recent tragedy in Newtown, Conn., clearly underestimated the epic volume of resistance they'd encounter as the warrior spirit within the American people rises in recognition of the veiled threat to their rights and liberties under the guise of "gun safety."
Head over to DayOfResistance.com to find out where the rally in your area will be held and get your Molon Labe on.
The Emergency Election Sale is now live! Get 30% to 60% off our most popular products today!