Kurt Nimmo
Infowars.com
March 22, 2013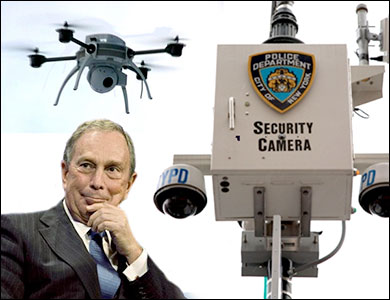 New York Mayor Michael Bloomberg is more concerned about citizens deciding to buy Big Gulps than the prospect of a high-tech Big Brother state violating their privacy with drones.
Bloomberg dismissed wanton violations of the Fourth Amendment as inevitable during his weekly WOR radio program.
"We're just going into a different world, uncharted," he said. "Like it or not, what people can do – or governments can do – is different and you can to some extent control [it], but you can't keep the tides from coming in. We're going to have more visibility and less privacy. I don't see how you stop that. It's not a question whether I think it's good or bad, I just don't see how you can stop that because we're going to have them."
Bloomberg then said he opposes legislative remedies to a high-tech panopticon state where citizen-subjects are under constant surveillance. He characterized opposition as counterproductive demagoguery.
"Everybody wants their privacy but I don't know how you're going to maintain it," he continued. "This is something that society really has to think about, and not by writing a quick piece of legislation. These are long-term, serious problems. Whether we have the discipline to approach problems that way, I don't know. I mean, Everybody demagogues on all these things; there's some serious issues before you write legislation."
Bloomberg's response is predictable considering the New York City government has embraced drone technology. New Yorkers reported random sightings of unidentified drones after NYPD Commissioner Ray Kelly expressed his desire to add the technology to the "arsenal of surveillance tools [that] could come in handy during future mass protests in the Big Apple," RT reported in January.
The NYPD has long served as a political Gestapo and "has spied on people up and down the eastern seaboard, not because they're engaged in wrongdoing, but because of their religion, national origin and their political associations," the ACLU reported last year. NYPD undercover cops "have infiltrated progressive political groups nationwide and compiled files on people engaged in political advocacy. The police department conducted similar spying in the run up to the 2004 Republican National Convention in Manhattan."
Finally, Bloomberg's dismissal of the privacy rights of millions of New York citizens is quite natural considering his complicity in widespread expansion of surveillance technology in the city. "New York City has expanded the surveillance network that is mentioned in many newspapers and at many internet pages as Domain Awareness System, and was recently described by New York Mayor Michael Bloomberg," writes Alex White of Security Blog.
Bloomberg plans to integrate all facets of surveillance into a sprawling Big Brother network:
This system will operate the existing network of CCTV cameras in the New York City, which is also paired with hi-tech developments from Microsoft Corporation that is meant to create a common tech infrastructure, which will support the full integration of advanced security technologies. The Police Department of New York currently works with more than 3,000 CCTV cameras, and that is only in lower Manhattan, so with this expansion of security measures, those cameras may end up upgraded with license plate readers and facial recognition software, to create much more intelligent and integrated surveillance system of the city.
After it is successfully implemented, Bloomberg, his bureaucratic cronies and legion of cops will not only have the ability to enhance their lucrative revenue generation schemes victimizing citizens, but also keep tabs on enemies of the national security state – for instance, a fledgling Occupy movement that incubated in New York and died a premature death there.
Nanny Bloomberg's high-tech panopticon – an integrated system that will eventually become an all-seeing technological eye – has nothing to do with terrorists in faraway caves or those trained on U.S. military bases.
It is about the real enemies of the state and its financial class overlords – you and me.
Video: Congress grapples with the "subjective harm living in a society where you feel you're under surveillance."
The Emergency Election Sale is now live! Get 30% to 60% off our most popular products today!