Spencer Ackerman
London Guardian
January 30, 2014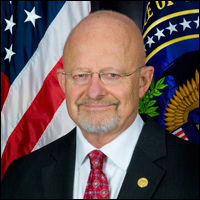 James Clapper, the director of national intelligence, has issued a blistering condemnation of Edward Snowden, calling the surveillance disclosures published by the Guardian and other news outlets a "perfect storm" that would endanger American lives.
Testifying before a rare and unusually raucous public session of the Senate intelligence committee that saw yet another evolution in the Obama administration's defense of bulk domestic phone records collection, Clapper called on "Snowden and his accomplices" to return the documents the former National Security Agency contractor took, in order to minimize what he called the "profound damage that his disclosures have caused and continued to cause".
Snowden has repeatedly said he acted alone in assembling and leaking a vast trove of information on the scope of US surveillance efforts, a conclusion also reportedly reached by the NSA's official investigation into the Snowden leaks.
The Emergency Election Sale is now live! Get 30% to 60% off our most popular products today!