Committee bans "We the People" from being displayed on American hockey mask
Infowars.com
January 16, 2014
The International Olympic Committee has banned a U.S. hockey goalie from depicting the opening text of the U.S. Constitution on her hockey mask, calling it "propaganda," but will allow her to keep images of a bald eagle and the Statue of Liberty.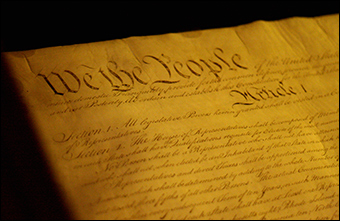 Women's hockey goalie Jessie Vetter designed her mask for the upcoming winter Olympics with popular American iconography, the most prominent of which being the text "We the People" from the preamble of the U.S. Constitution, but the mask's artist Ron Slater told In Goal Magazine that the IOC would not allow it.
"No writings of any kind to promote the country is allowed," he said. "A sort of 'our country is better than your country' kind of thing that the IOC frowns upon."
In banning the text, the IOC cited Rule 51, which says "no kind of demonstration or political, religious or racial propaganda is permitted in any Olympic sites, venues or areas."
"A person's ability to express his or her opinion is a basic human right and as such does not need to have a specific clause in the Olympic Charter because its place is implicit," former IOC president Jacques Rogge wrote in a statement explaining the rule. "But we do ask that there is no propaganda nor demonstrations at Olympic Games venues for the very good and simple reason that we have 205 countries and territories represented, many of whom are in conflict, and the Games are not the place to take political nor religious stances."
The IOC, however, allowed Vetter to keep images of a bald eagle and the Statue of Liberty on the mask.
The committee also allowed Slovakia to keep its entire national anthem printed on its hockey jerseys.
To put it bluntly, only the U.S. Constitution was singled out for removal.
The Emergency Election Sale is now live! Get 30% to 60% off our most popular products today!