Guardian LV
January 6, 2014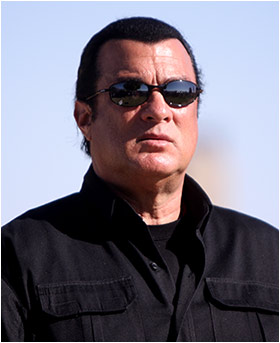 Governor Steven Seagal of Arizona? It could be a possibility, if Steven Seagal decides to run for the office. The seventh-dan degree Aikido black belt has plenty of fans who remember him from his starring roles in such movies as Under Siege, Under Siege 2: Dark Territory, and Marked for Death, and he's earned new fans for his bad-ass exploits arresting genuine perps in the reality TV series, Steven Seagal — Lawman: Maricopa County (The Lost Episodes).
According to Phoenix, Arizona's ABC affiliate, KNXV, Steven Seagal, 61, is considering a run for the governorship of Arizona in the next election, though his main concern is to bring a bit of law-and-order to Arizona through his crime-fighting actions as a duly deputized (volunteer) lawman for Sheriff Joe Arpaio of Maricopa County, Arizona.
Sheriff Arpaio has a reputation as being "America's Toughest Sheriff," though he has come under fire for his alleged racist attitudes and practices in defending the borders of Arizona.
The Emergency Election Sale is now live! Get 30% to 60% off our most popular products today!