Kurt Nimmo
Infowars.com
November 7, 2013
Privilege has its perks. For instance, the privilege enjoyed by Max Mosely, a former barrister and president of the Fédération Internationale de l'Automobile.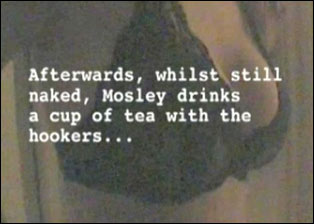 On Wednesday, A French court ordered Google to remove several embarrassing images of Mosely from its search engine. The images in question show the Formula One boss engaged in sadomasochistic acts during an orgy held in 2008. The now defunct British tabloid, News of the World, posted the images alongside an article describing the incident as a "sick Nazi orgy."
"Although we initially thought it was the world's zaniest April Fool's joke, we were wrong," Wes Siler wrote for the website Jolopink in March, 2008. "Sick and wrong. During the five-hour video, which the tabloid also has in possession… Mosley appears to be both dominated and submitting to the five hookers, who NOTW alleges were dressed both as Nazis and concentration camp prisoners. The 67-year-old, who has been married for 48 years, was at one point whipped so hard that the orgy had to be halted while a bandage was applied to stop his bleeding."
A shamed Mosley, the youngest son of Sir Oswald Mosley, former leader of the British Union of Fascists, has admitted paying five women £2,500 ($4,000) for the escapade, but said the Nazi theme reported in the tabloids was off the mark. He earlier won a lawsuit against the tabloid in France and England.
Mr. Mosley may, however, have an affinity for all things Nazi. In 1936, his father married Diana Mitford in a ceremony in Germany attended by Joseph Goebbels and Adolf Hitler. His parents were interned during the Second World War for collaborating with the Nazis.
It will be impossible for Google to remove the images from the internet as ordered by a French court. Although it can delete links from its search engine listings, it will prove virtually impossible to prevent links pointing to the images from reappearing.
Google released a statement saying in order to follow the court order it will have to engineer a software filter to find and remove new links to the naughty images.
"This is a troubling ruling with serious consequences for free expression and we will appeal it," said Google's associate general counsel Daphne Keller in a statement.
The Emergency Election Sale is now live! Get 30% to 60% off our most popular products today!