Hired to suppress protest mood and neutralize leaders and activists
Kurt Nimmo
Infowars.com
March 26, 2014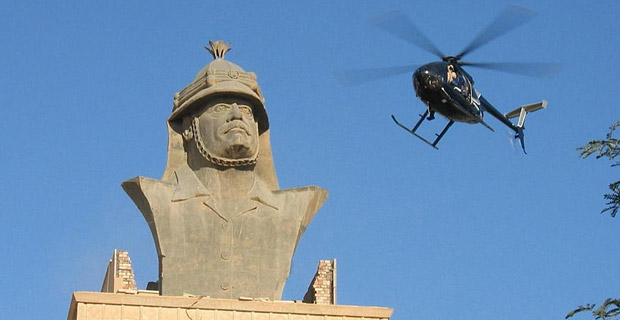 ITAR-TASS, Russia's state-owned news agency, claims the junta in Kyiv has hired a Blackwater spin-off to act as political police force in the eastern part of the country.
The Voice of Russia reported on Tuesday:
Ukrainian authorities believe that the Security Service is not able to suppress the protest mood and neutralize the leaders and activists of the pro-Russian movement in the eastern regions. In particular, the source said, the acting president Alexander Turchinov shares this opinion. "Therefore it was decided to attract foreign mercenaries, who will serve as political police and state security protection, " said the representative of the Security Service.
On March 10, Infowars.com reported the presence of corporate mercenaries in Donetsk, an industrial city in eastern Ukraine on the Kalmius River. A video posted on Youtube showed men with weapons and body armor on a street where a pro-Russian demonstration was held. A Russian diplomat told Interfax 300 employees of Blackwater, now known as Academi, had arrived in the pro-Russian city.
The mercenaries in Donetsk "are soldiers of fortune proficient in combat operations," the diplomatic source told Interfax, according to the Daily Mail. "Most of them had operated under private contracts in Iraq, Afghanistan and other states. Most of them come from the United States."
Greystone Limited was acquired by Academi, aka Blackwater, and currently operates as a standalone security service. The company is registered in Barbados and employs "personnel from the best militaries throughout the world."
It remains to be seen if mercenaries can stem the political tide in Ukraine's industrial heartland. Thousands of people have protested in Kharkov, Donetsk, Lugansk, and Odessa in opposition to the coup government in Kyiv. The results of an improvised referendum held in Lugansk, a city of around 500,000 in eastern Ukraine, showed more than 100,000 people favored joining Russia.
On March 16, a referendum held on the status of Crimea resulted in the peninsula joining the Russian Federation. Despite the Eurasian Observatory for Democracy & Elections, an election monitoring organization, concluding the referendum was conducted freely and fairly, the United States, the European Union and Canada declared the result to be illegitimate. Officials reported that over 96% of voters supported the choice to join Russia with a turnout of over 80%.
The Emergency Election Sale is now live! Get 30% to 60% off our most popular products today!