Darwin Bond-Graham and Ali Winston
LA Weekly
March 2, 2014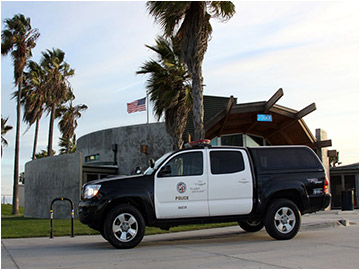 Edward Snowden ripped the blinds off the surveillance state last summer with his leak of top-secret National Security Agency documents, forcing a national conversation about spying in the post-9/11 era. However, there's still no concrete proof that America's elite intelligence units are analyzing most Americans' computer and telephone activity — even though they can.
Los Angeles and Southern California police, by contrast, are expanding their use of surveillance technology such as intelligent video analytics, digital biometric identification and military-pedigree software for analyzing and predicting crime. Information on the identity and movements of millions of Southern California residents is being collected and tracked.
In fact, Los Angeles is emerging as a major laboratory for testing and scaling up new police surveillance technologies. The use of military-grade surveillance tools is migrating from places like Fallujah to neighborhoods including Watts and even low-crime areas of the San Fernando Valley, where surveillance cameras are proliferating like California poppies in spring.
The Emergency Election Sale is now live! Get 30% to 60% off our most popular products today!