Daniel Halper
Weekly Standard
November 2, 2012
With the latest jobs report, it is now the case that "Under Obama, Food Stamp Growth [Is] 75 Times Greater Than Job Creation," according to statistics compiled by the Republican side of the Senate Budget Committee. "For Every Person Added to Jobs Rolls Since January 2009, 75 People Added To Food Stamp Rolls."
Here's a chart detailing the growth: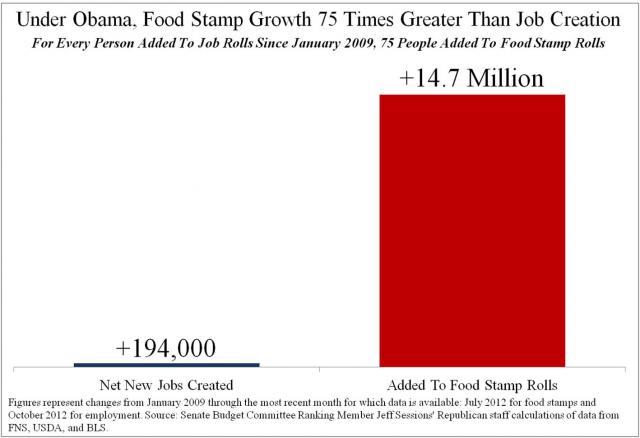 Since January 2009, as the chart shows, a net of 194,000 new jobs have been created. During that same time, 14.7 million have been added to the food stamp rolls.
"Simply put, the President's policies have not produced jobs. During his time in office, 14.7 million people were added to the food stamp rolls. Over that same time, only 194,000 jobs were created—thus 76 people went on food stamps for every one that found a job," says Senator Jeff Sessions, ranking member of the Senate Budget Committee. "This is a product of low growth. Post-recession economic growth in 2010 was 2.4%, and dropped in 2011 to 1.8%. This year it has dropped again to 1.77%. Few, if any, net jobs will be created with growth of less than 2%."
The Emergency Election Sale is now live! Get 30% to 60% off our most popular products today!