Britons have reacted with outrage this morning after the front page of the Daily Starnewspaper – the sister paper of the Daily Express – conflated yesterday's brutal murder of Member of Parliament Jo Cox with the Brexit campaign.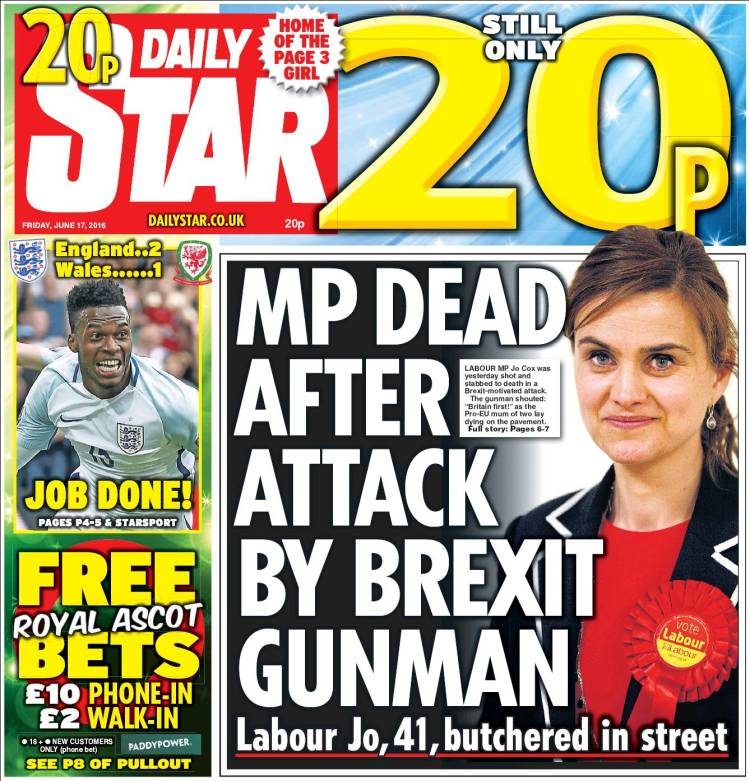 The Star, which is owned by billionaire UKIP donor Richard Desmond, splashed Mrs. Cox's face, a Labour rosette, and the words: "MP Dead After Attack By Brexit Gunman".
At the point of publication last night, the Star had no further information as to the motive of the killer, and doubts have now been cast on the claim that the killer shouted "Britain First", though one eyewitness maintains he may have said "Britain First" or "put Britain first". Britain First is the name of a nationalist political party in the UK.
Despite this, the Star chose to splash the Brexit claim on its front page, in an image reminiscent on the immediately politicising of Mrs. Cox's death by 'Remain' campaignersand even European Commissioners.
The Emergency Election Sale is now live! Get 30% to 60% off our most popular products today!