Mark Rockwell
Government Security News
March 11, 2013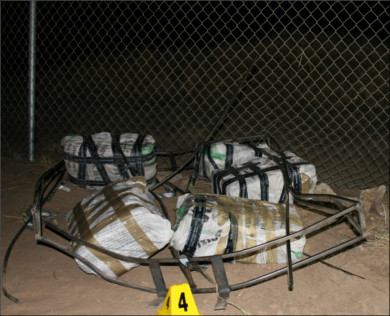 In near-midnight darkness on March 7, drug smugglers swooped across the California/Mexico border in an ultra-light aircraft to drop over $100,000 worth of marijuana into the U.S.
The drop, near Calipatria, CA., however, was intercepted by Border Patrol agents assigned to the Indio station, according to the Border Patrol. Agents seized the 230 pounds of drugs dropped by aircraft.
Border Patrol said its agents were notified at about 11 p.m. by the CBP Air and Marine Operations Center of a possible ultra-light traveling north from the U. S./Mexico border fence, five miles west of Calexico. Agents responded to the last known location given by Air and Marine Operators. While conducting surveillance of the area, agents saw a black GMC Sierra truck with packages inside the cab and a metal cage in the bed of the truck—a sign that the truck was involved with the operation, as metal cages are frequently used for dropping narcotics from ultra-light aircrafts, said the Border Patrol. Agents conducted a vehicle stop and discovered ten packages of Marijuana, weighing over 230 pounds, with an estimated value of over $184,000, it said.
The Emergency Election Sale is now live! Get 30% to 60% off our most popular products today!