Ariel Zirulnick
CSMonitor.com
November 27, 2012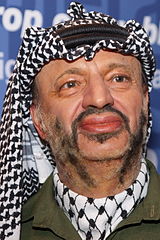 Now that the exhumation and reburial of late Palestinian leader Yasser Arafat is complete, the wait for results on cause of death begins. Suspicions that Israel poisoned him are widespread, and the results will put to rest eight years of questions about his rapid health deterioration and subsequent death.
Israel has vehemently denied being responsible for Mr. Arafat's death, and has even called for Palestinian officials to release his medical records to bolster their claims. No autopsy was performed at the time, leaving doctors unable to determine the cause of death. When traces of polonium were found in July on some of Mr. Arafat's belongings that had been handed over to Al Jazeera, it revived the dormant debate, Agence France-Presse reports.
Even before the polonium discovery, many Palestinians suspected Israel was behind Arafat's death, according to AFP. Although he eventually signed a peace agreement with Israel, for a long time he was considered a terrorist by most Israelis for his many years of leading Palestinian resistance to Israel.
The Emergency Election Sale is now live! Get 30% to 60% off our most popular products today!