Adam Chandler
The Wire
January 18, 2014
The results are in. Over 98 percent of Egyptians reportedly voted in favor of a new constitution. The lopsided result of the first vote since the ouster of Egyptian President Mohamed Morsi formalizes the military-backed government control of the country. It has also already caused no small amount of eye-rolling.
Numbers aside, this result wasn't entirely unexpected. "The outcome was never really in doubt: No major political faction was pushing a 'no' vote, and many Egyptians saw approving the constitution as a key first step towards restoring stability after the army overthrew President Mohamed Morsi in July."
However, last month the military-backed government led by General Abdel Fattah Sisi, who is possibly planning a run for president, outlawed the Muslim Brotherhood, the party of deposed leader Mohamed Morsi and the main political opposition in the country.
Others yet were dismayed by the relative low turnout–some 38.6 percent of 53 million eligible voters–which belied the statistical enthusiasm of the results.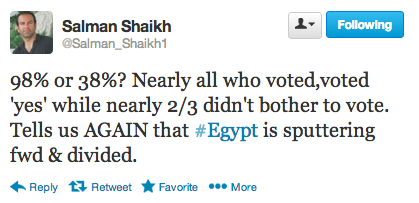 The Emergency Election Sale is now live! Get 30% to 60% off our most popular products today!