Kerry Sheridan
AFP
March 20, 2014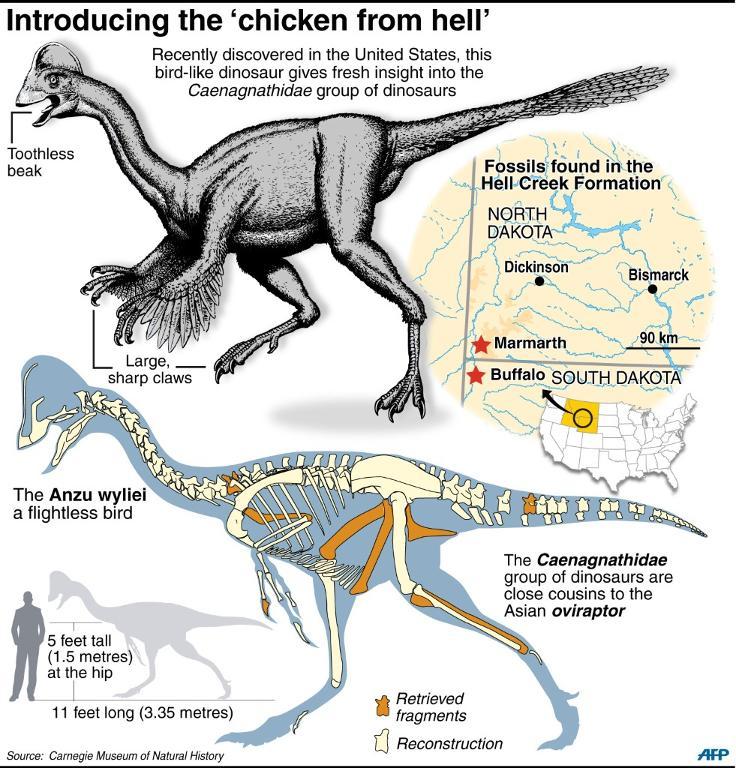 Nicknamed the "chicken from hell," a newly identified species of feathered dinosaur as tall as a human roamed North America at least 66 million years ago, paleontologists announced Wednesday.
With a hen-like crest on its head, lanky legs like an ostrich, sharp claws on its forelimbs and jaws built for crushing eggs and prey, the Anzu wyliei weighed a hefty 440-660 pounds (200-300 kilograms).
The long-tailed creature is the largest known member of the legendary "egg-thief" dinosaurs, known as Oviraptorosaurs, which are closely related to birds, said the study in the journal PLOS ONE.
"We jokingly call this thing the 'chicken from hell,' and I think that's pretty appropriate," said lead author Matt Lamanna of the Carnegie Museum of Natural History in Pittsburgh, Pennsylvania.
The Emergency Election Sale is now live! Get 30% to 60% off our most popular products today!