Allan Hall and Fiona Macrae
DailyMail.co.uk
January 21, 2013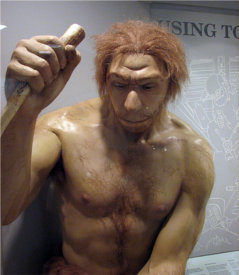 Photo by hairymuseummatt via Flickr
[…] Professor George Church of Harvard Medical School believes he can reconstruct Neanderthal DNA and resurrect the species which became extinct 33,000 years ago.
His scheme is reminiscent of Jurassic Park but, while in the film dinosaurs were created in a laboratory, Professor Church's ambitious plan requires a human volunteer.
[…] After growing in the lab for a few days, the 'neo-Neanderthal' embryo would be implanted in the womb of a surrogate mother – the volunteer. Professor Church, 58, is a pioneer in synthetic biology who helped initiate the Human Genome Project that mapped our DNA.
[…] He believes his project could benefit mankind.
The Emergency Election Sale is now live! Get 30% to 60% off our most popular products today!