xinhuanet.com
March 30, 2014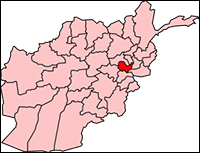 A five-hour gun fight close to the Afghanistan's main election office in Kabul ended Saturday evening after Taliban gunmen were killed in the counter-attack, an official said.
"Five suicide bombers were killed and two policemen were wounded in Saturday's terrorist attack on the Independent Elections Commission (IEC) office in eastern Kabul," Deputy Interior Minister in-charge of Security Mohammad Ayoub Salangi told reporters near the site.
The attack began at midday after the militants seized a four-story building close to the IEC HQ and fired several rocket propelled grenades (RPGs) on the fortified complex besides exchanging of fire with security forces.
The Emergency Election Sale is now live! Get 30% to 60% off our most popular products today!