Tiffany Hsu
L.A. Times
January 26, 2013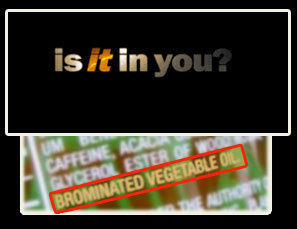 Brominated vegetable oil, a synthetic chemical that has been patented in Europe as a flame retardant, will no longer double as an ingredient in Gatorade sports drinks.
Molly Carter, a spokeswoman for Gatorade owner PepsiCo Inc., said the company has been considering the move for more than a year, working on a way to take out the ingredient without affecting the flavor of the drink.
[…]
The effort quotes a Scientific American article suggesting that "BVO could be building up in human tissues" and that studies on mice have shown "reproductive and behavioral problems" linked to large doses of the chemical.
[…]
There's no hard date for the launch because "we're not recalling Gatorade," she said. "We don't think our products are unsafe. We don't think there are health or safety risks."
According to the Scientific American, the ingredient is widely used in a number of popular artificially flavored drinks:
The next time you grab a Mountain Dew, Squirt, Fanta Orange, Sunkist Pineapple, Gatorade Thirst Quencher Orange, Powerade Strawberry Lemonade or Fresca Original Citrus, take a look at the drink's ingredients. In Mountain Dew, brominated vegetable oil is listed next-to-last, between disodium EDTA and Yellow 5. These are just a sampling of drinks with BVO listed in their ingredients, which is required by the FDA. The most popular sodas – Coca-Cola and Pepsi – do not contain BVO.
The Emergency Election Sale is now live! Get 30% to 60% off our most popular products today!